Mr. Wang Xiaofeng, governor of Hainan province,
visits the Information Park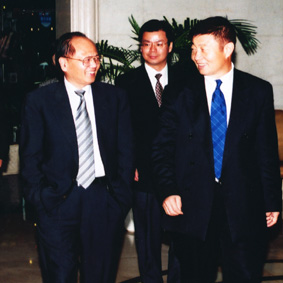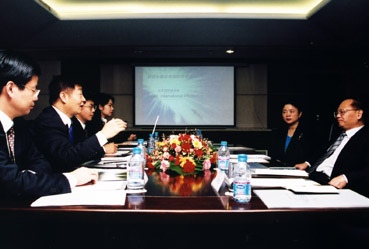 September 11, governor Wang Xiaofeng of Hainan province, together with Ms. Zhao Lisha, director of the Planning Division and the Business Invitation Bureau of Hainan province paid a visit to the Information Park. Mr. Wang Tianye, president of CIIC, and Mr. Liu Qun, the executive vice president of the Information Park, had a cordial talk in the Distinguished Guest Hall on 10th floor with governor Wang about the development prospect as well as issues concerning Haikou Photo Electricity Information Park.
President Wang pointed out in the meeting, most of the world top 500 have set foot in communication industry at present, therefore, Hainan should effectively attract them to establish training center here with its advantaged natural resources, and introduce the summit of world communication industry into Hainan.
Governor Wang thought, the scientific and technological basis of Hainan is rather weak, the campaign to attract the world top 500 should follow three steps: the first step, to encourage the world top 500 with the local natural advantages to set up training center; the second, establish R&D center based on the above; they will develop an thorough understanding of Hainan through these two steps, and finally, they will have their production base constructed in Hainan.
Governor expressed his absolute support for the holding of World Top 500 Summit in Hainan; he showed his satisfaction to CIIC and the development planning of Haikou Information Park by the Information Park.
After the meeting, governor Wang and his party also debriefed the report of recent projects of the Information Park.