CIIC holds the Promotion of Overseas Development

of Chinese Enterprises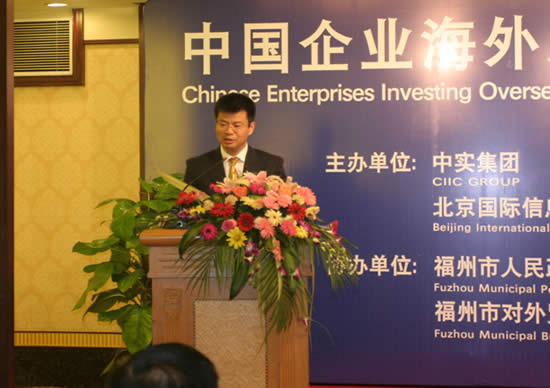 During the Ninth Cross-Straits Fair for Economy and Trade, the "Promotion of overseas development of Chinese Enterprises" sponsored by BIIP of CIIC, under the support of Fuzhou Municipal Government, kicked off in Fuzhou Hotel on May 19, 2007. Mr. Wang Congshen, deputy chairman of Fuzhou Municipal Political Consultative Conference, mayor of Koszaline, Poland, Mr. Naeem Khan, commercial counselor of Pakistani Embassy in China, Liu Qun, vice president of CIIC and general manager of BIIP, were present at the promotion and gave speeches. 200-odd enterprises of Fujian in fields of building, building material, trade, light industry, food, textile and information participated the promotion. At the meeting, CIIC (Pakistan) signed a momentum with Fujian Aton Innovation Group Inc. to agree that the latter has right to enter into CIIC China Scientific and Technological Industry Park in Pakistan.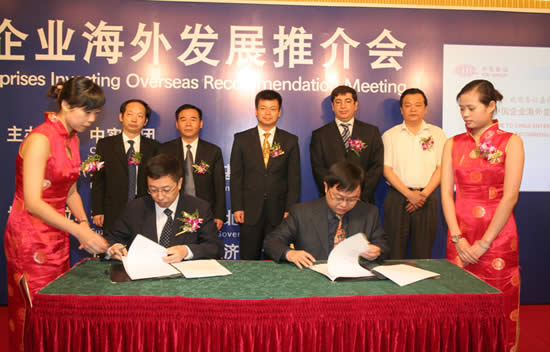 Under the leading of All-China Federation of Industry and Commerce as well as the support of China Development Bank, CIIC promotes exchanges and cooperation between Chinese and foreign enterprises based on high-tech industry parks, while striving for carrying out the "Double-Thousand Plan" which aims at introducing 1000 foreign enterprises into China and leading 1000 Chinese enterprises to the world, and focusing on economic exchanges and cooperation with European, American, Asian and Middle East countries. Centering BIIP, CIIC offers gardening high-tech parks for well-known enterprises inclusive of 500 Fortune enterprises. On that basis, it covers 10 central cities nationwide and cooperates with local government for building sister parks. Meanwhile, it builds and develops China Industry Parks in Poland and Pakistan.
| | |
| --- | --- |
| | |
At the meeting, Yang Jianwei, vice manager of BIIP introduced specific project background, development objectives, preferential policies and building procedures of "Koszaline China Industry Center" and "Lahore China Scientific and Technological Industry Park" which was developed joint by CIIC, Poland and Pakistan. The mayor of Koszaline and Mr. Naeem Khan, commercial counselor of Pakistani Embassy in China briefed investment environment and policy regulation of both countries, while warmly inviting enterprise in Fujian to invest and build in the two countries for realizing win-win in reciprocal development. Wang Congsheng, vice chairman of the Political Consultative Conference of Fujian, agreed to provide vigorous support and assistance as well.

After the meeting, representatives from both countries and enterprises in Fujian fully affirmed achievements of the promotion. Meanwhile, Liang Jianwei, standing deputy mayor of Fuzhou, and leaders from Fuzhou Foreign Trade and Economic Bureau, Fuzhou Foreign Affairs Office and Fuzhou Office in Beijing stated that they will actively promote and boost projects cooperated with Poland and Pakistan. BIIP not only built a civilian platform for economic and trade exchanges to draw foreign enterprise to China and lead Chinese enterprise to the world, but also make contributions to "going global and inviting in" for enterprise in Fujian. Multiple parties jointly decided to organize enterprises in Fujian to make a business investigation in Poland and Pakistan in terms of investment environment, market and industry parks.