Beijing International Information Park Enthusiastically

Participates in Construction of Chinese Community Website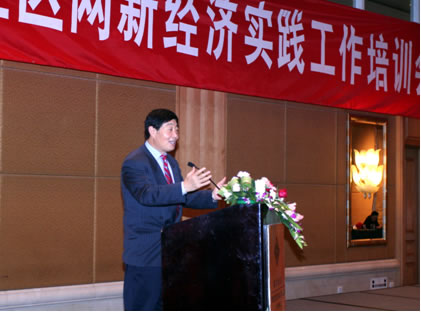 First facing the huge opportunities resulted from the new economy, the entire group is performing the ongoing construction of the Chinese Community Website with the idea of New Economy, New Community, New Life and New Practice. Pursuant to the requirements of the Group Corporation, BIIP has divided its staff into 25 groups, assigned work goals for every employee and specially appointed specific personnel to supervise and urge the progress of signing contracts every day. Up to December 29th, 2007, BIIP has achieved 36 contracted communities, 30 contracted enterprises and service providers; and moreover, has established the working ties with university students.
| | |
| --- | --- |
| | |
Paid great attention to the work, the management of BIIP has held multiple regular office meetings for research and deployment of development of communities, enterprises as well as schools and universities, BIIP is doing the best efforts to participate in all the activities sponsored by the Group. In three large promotion and introduction meetings from November 29th to December 1st, the company has invited 73 enterprises and 12 university students to attend the meetings, with employees' attendance of 41 person-times accumulative; in the training meeting on December 21-22, BIIP has invited 33 university students, 10 representatives of properties and owners, with employees' attendance of 60 person-times. After the meeting, BIIP held the sessions for the university students, and the General Manager Liu has conducted special training to the university students, and every participant has benefited from his training considerably. In the large year-end session on December 28th, BIIP has invited 31 teachers and students from 12 universities out-of-city, 10 students from 3 universities in Beijing as well as representatives from 11 properties companies to attend the session. In general, BIIP has not only over-fulfilled every invitation task for each activity but also completed all the organization works on-site.
BIIP has regarded the construction of the community website as the one of the key tasks of the Information Park Company, further more, in 2008, with the greater enthusiasm and more energy, all the staff of BIIP will continue to do the greatest contributions due diligence for the development and mightiness up to listing of the Chinese Community Website.