Neil Bush's Visit to Weinan
Facilitates Launch of Huanghe Culture Park Project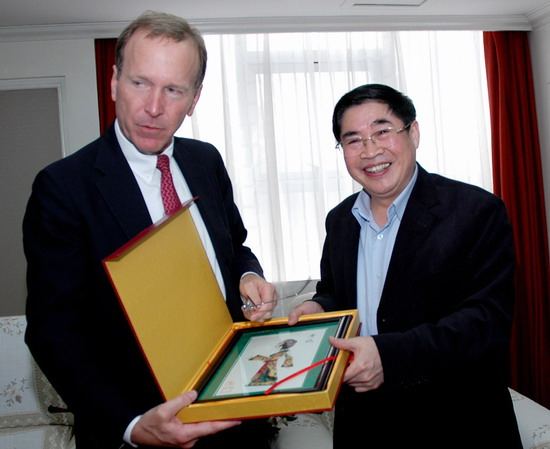 Accompanied by CIIC's leaders, such as Dr. Wang Tianyi, CIIC's Chairman of Board and President, Qun Liu, CIIC's Director, Vice President and BIIB's General Manager, Neil Bush, one of the partners of CIIC, on Apr. 1st, 2008, visited Huanghe Culture Park Project based on Weinan City of Shanxi Province.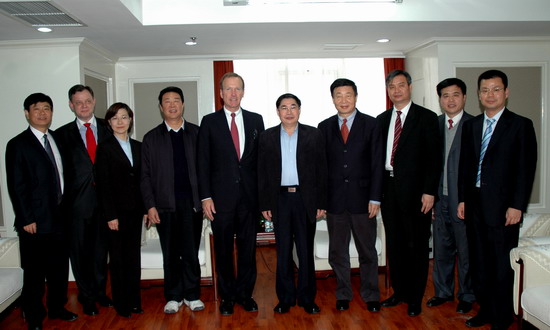 On arrival on Apr. 1st, the delegation held a conference with Chunqing Yuan, Governor of Shanxi Province, Fengmin Liang, Party Secretary of Weinan City, Xinrong Xu, Mayor of Weinan City. Neil Bush, in the meeting, put forward the suggestion that Huanghe Project should be publicized in America to attract American enterprises to investment to and establishment of Weinan City, and full support should be provided by levels of governments of Shanxi Province. Governor Yuan expressed determination to support the Huanghe Park Project, for governments hold the hope that it will bring economic benefit to Shanxi Province. Afterwards, the delegation visited Huanghe Culture Park Project forum address situated in Tongguan County - the junction of three rivers of Huanghe and Huanghe Culture Park Project industry address situated in the nation-level agricultural and technological Park of Dali County. Then the party returned to Beijing.
A working party consisting of five leaders, such as Qun Liu, Vice President, and Geng Tian, President Assistant reported, on Apri.2, to the associated leaders of Weinan City in terms of conceptual plans and implement solutions of Huanghe Culture Park Project. Vice Mayor of Weinan City, Jun Tian, and leaders of Land Resource Department, Planning Department, Finance Department, Development and Reform Commission, Tongguan County, and Dali County participated in the meeting. Jun Tian, on behalf of leaders of Weinan City, agreed on conceptual plans and project implement solutions, and expressed determination that full support in land and human resources would be offered by the Weinan government.
At the beginning of May, CIIC's Huanghe project team arrived in Weinan and defined the boundary of 1000 mu in CIIC's First Period, and 300 mu of Initial District situated in Dali and Tongguan County, marked four points and hammered stakes, and determined CIIC's office site in Weinan City. Determination of the boundary and office site allows CIIC's further carrying of Huanghe project work, and meanwhile the promise made by leaders of Weinan City to do matchmaking for CIIC and the local government holding a conference of public bidding forms a solid foundation for the success of the conference.