Thematic Meeting of Operation System in Spring, 2008
-- Park System's Report Meeting Presided over by Vice President Liu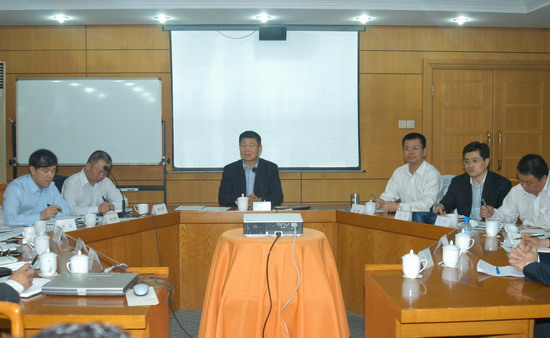 From Apr. 16 to 17, CIIC's Thematic Meeting of Operation System in Spring, 2008 was held in Luyuan Club of Miyun District. The meeting was presided over by Qun Liu, Group's Vice President and BIIP's General Manager, with reports on this quarter's work and next-step work plans from Park System and Technology System. President Wang demanded that every system enter the phase of the entire staff being salesmen, BIIP strengthen the Beijing market, develop markets in other cities and explore markets aboard, taking full advantage of land and network resources to raise the high tide of sales.
Qun Liu, General Manager, provided a brief introduction to the overall operation situations of the company. Geng Tian, General Manager, produced a report on the overall operation solution of the company. Yijun Zhao, Vice President summarized the work of new economy and said that performance of community and company development stayed in ahead. Vice presidents, Lianhui Ma, Zhenxing Tian, Wenzhi li, Jinyan Zhang, offered reports on development and planning of Beijing, Changchun, Harbin, Chengdu and Huanghe Park respectively. Dao Yao, General Manager Assistance introduced the work plan of Poland Highway Project. Fan Wu, Manager of Human Resources, introduced team-building and stimulating policies. According to Group's instruction of Policy First, BIIP, based on policies of stock ownership for stimulation, and with a combination of situations of the company, established more detailed stimulating policies. Aimed at the rapid development of other cities' park, BIIB emphatically carried out policies towards staff sending out, and defined assignment allowance, bounties for attracting investment, executive management, and performance assessment. Quantifiable assessment, led by Human Resource and Operation Department, would be carried out among all staff of the Park. Work is classified into four sections of enterprise culture, work performance, team cooperation and discipline and under the current assessment system every piece of work will be quantified and assessed. Quantifiable assessment system is now on trial.
After reports, President Wang pointed out that every system should concentrate all attention on sale, exploit land and network resources, perform road-show in 20 cities from May, introduce compressively the community network and its products and sell the products of each system. President Wang demanded that Human Resource Department find the leading person in the industry, insurance sale mode be adopted, the calling center be established, and the agency-sale and direct-sale team be built with a combination of two channels of the Air and Ground. In terms of establishment and expansion of the Park, 90% of the attention shall be paid to Beijing, with a center of currency steam, the main line of Three First, making important work detailed and implemented, in order to fulfill this year's task index, gain more profits, control more land resources and support other cities' park. Launch of three to five counterparts of other cities and repeated road-show to attract investment in two to three of Top 100 Counties facilities forming of cash steam. President Wang required that every system's thoughts be advanced and distinct, products be easy to be duplicated, making all staff salesmen, speeding the progress, achieving a major breakthrough as soon as possible and realizing the green cash steam. President Liu indicated that BIIP would further perfect and implement the plan, as to obtain two achievements in the new economic work and traditional industry of the Park.
Organizers and participates' fruit-tree planting, football matches and evening parties as components of the operation seminar strengthened bodies and embodied the concept of achieving success and admiring nature.