Foundation-laying ceremony of Beijing Zhaoke

Hengxing Technology Co., Ltd ends satisfactorily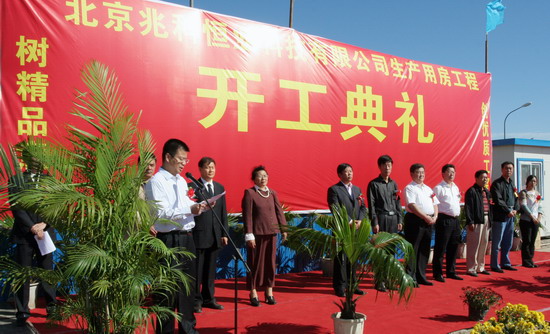 On September 23, the foundation-laying ceremony of Beijing Zhaoke Hengxing Technology Co., Ltd (hereinafter referred to as Zhaoke Hengxing) was held in the Beijing (Yongfeng) International Information Industry Base. Officials who attended the ceremony include: Hong Bo, deputy director of Changping District of Beijing, Qi Bingrui, supervisor of Huilongguan Town, and some other officials from the district and town.

The other people who attended the ceremony include: Liu Qun, vice president of China International Industry & Commerce Co., Ltd. (CIIC) and general manager of Beijing International Information Park Development Co., Ltd. (BIIP) and all the staff, the managing staff and employees from the company to settle down in the park as well as the staff from the construction contractor.

At the ceremony, Liu Qun, general manager of Zhaoke Hengxing and general manager of BIIP, delivered a speech of welcome to express his appreciations for the presence of the officials to give directions and for the great support and assistance provided by the governments at all levels. Qi Bingrui, on behalf of the CPC Huilongguan Committee and the Huilongguan government, gave a speech and wished Zhaoke Hengxing and the information industry base a good future. At last, Hong Bo announced the start of the foundation-laying ceremony.

Zhaoke Hengxing is a high-tech company professionally dealing with the development and manufacturing of large screen projection and display systems and video signal processing equipment. It is also a leading company in developing high-resolution graphical interface equipment.