Delegation of the Chamber of Commerce of Jun'an,

Shunde, Guangdong visits Weinan for an investigation

into the Yellow River Industrial Park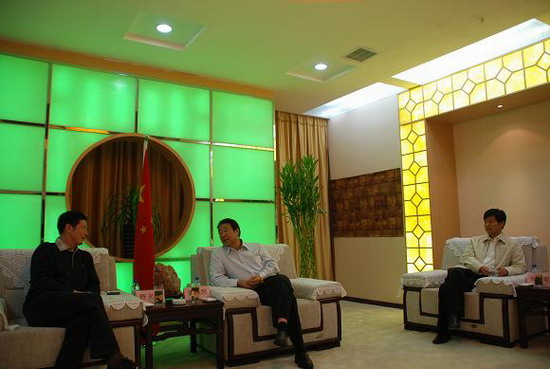 On September 27, 2008, the eight-member delegation of the Chamber of Commerce of Jun'an, Shunde, Guangdong visited Weinan under the leadership of the Chamber of Commerce's vice chairman Chen Guangzhen for an on-the-spot investigation into the Yellow River Industrial Park. It was the first delegation that visited Weinan after the economic and trade fair held on September 19.

The delegation first visited the Weinan High and New Tech Zone, having an observation of the infrastructure construction of the zone and the business clusters and listening to the introduction to the development plan of the zone and relevant policies. Then, it visited the Weibei Industrial Park and the Yellow River Industrial Park, getting a better understanding about the overall plan, industrial layout, business introduction and policy environment of the park. Chu Jinfeng, vice secretary general of Weinan municipal government, and Liu Xiaoping, director of the Business Promotion Bureau of Weinan, escorted the visit.

After the visits, the CPC Weinan Committee's secretary Liang Fengmin and the Weinan mayor Xu Xinrong met with the members of the delegation. At the beginning, Liang showed welcome to the visitors, made a brief introduction to the achievements of Weinan during its development in recent years and described the expectations for a booming future. Then, Xu gave an introduction to the comprehensive advantages of Weinan in resources, including advantageous location, convenient traffic, abundant energy and human resources, integrated urban facilities, good investment environment and preferential investment policies. Chen Guangzhen said, although it was just a short visit, they were deeply impressed by the fast development and construction of Weinan's industrial parks; they will carefully study on the advantages of Weinan in location, resources and industries and promote it the companies as members of the Chamber of Commerce to strive for making Weinan more well known and interested by more Guangdong businessmen and companies. He expected to see further cooperation with Weinan.

After the visit, Chen Guangzhen called the Shunde work team of CIIC to express thanks, hoping CIIC could provide the details about the land of the Yellow River Industrial Park as soon as possible so that they could encourage more Shunde companies to establish factories in the Yellow River Industrial Park in Weinan through promotion and recommendation.