CECC chairwoman Qu Weizhi visits

Beijing International Information Industry Base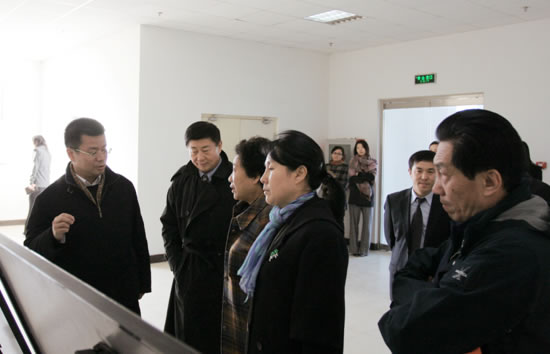 On August 26, 2008, China Electronics Chamber of Commerce (CECC) chairwoman Qu Weizhi and executive vice chairman Wang Ning visited Beijing International Information Industry Base (BIIIB) in the company of Dr. Wang Tianyi, chairman and president of CIIC, and Liu Qun, general manager of BIIIB.

During the visit, Liu Qun gave an introduction to the overall plan of the base: the Phase I and II development and the high and new tech companies that have established businesses in the park. Chairwoman Qu Weizhi highly appreciated the achievements made by the base during the construction and was full of confidence in the cooperation with the base for building the "international electronic information industry base".

During later discussion, Wang Tianyi made an introduction to the principles for selecting the sites for 16 parks located in the regions out of Beijing and the progress of the site selection. He said that, all these parks were located near expressways or airports; the size of each park was not smaller than 10 square kilometers; a city in which one of such parks was located should be populated by not less than five million people and the GDP of the city should not be less than 100 billion yuan. He described the planning concept, informing that an international garden-style industry base will be built up by taking the styles and planning concepts of the Longwood Gardens, the Fengdan Lishe Residential Quarters and the Versailles.

Chairwoman Qu Weizhi said, CECC would play a positive role to promote the settlement of the software developers and other companies in the park by taking advantage of its perception to the national policies as well as the member resources. She also suggested that good plans should be made for the greening zone, the living zone and the industrial zone; software development and hardware manufacturing should be conducted in different zones; specific targets for business promoting should be made. CECC will cooperate with the base to discuss with related departments to get the approvals for granting more preferential policies for attracting high and new tech companies to settle down in the park.

As a member of CECC, CIIC has been keeping a good partnership with CECC in many aspects, such as business promoting and business development. At the ceremony for the 20th anniversary CECC held on November 28, 2008, CIIC was honored as "The Best Member".

CIIC vice president Ma Hailiang and BIIP vice general manager Zhao Yijun and Ma Lianhui were in the company during the visit and discussion.