GEMOTECH, leader of embedded computers,

signs agreements with BIIIB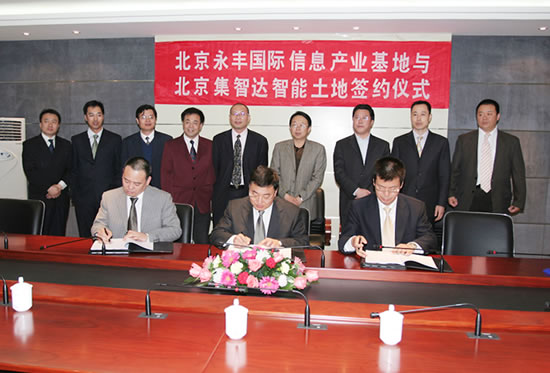 On April 23, 2009, the ceremony for signing agreement for Beijing GEMOTECH Intelligent Technology Co., Ltd to settle down in BIIIB was held in Huilongguan Town of Changping District. People attending the ceremony include He Jun, secretary of CPC Huilongguan Town Committee, Qi Bingrui, supervisor of Huilongguan Town, Zhang Wentao, deputy supervisor of Huilongguan Town, and Liu Qun, general manager of BIIIB.

Founded in 1999, GEMOTECH leads the development of industrial control industry based on the "Embedded Computer" concept and has been widely acknowledged relying on the forward-looking technical application idea, the remarkable products and the principle that "customer benefit is supreme". It is a high-tech company dealing with integrated businesses for independent research and development of products, production, system integration, marketing and service. So far, it has established a global marketing network covering more than 10 national cities as well as the Asian, European and American areas and has become a leading company in the industry.

GEMOTECH is planning to build a base with integrated functions for R&D, administration and production on the land covering an area of 10 mu (about 6667 square meters). An income of 180 million in 2009 is predicted. Taking the chance of the expanded reproduction, GEMOTECH will accelerate the development to strive for listing the company on the growth enterprise market within several years.

The officials from the Huilongguan government gave their congratulations for BIIIB could manage to sign new contract under financial crisis and highly appreciated the BIIP's teams for being unremitting and aggressive to overcome the difficulties. They promised that, the government would provide as much support as it could for the development of the base and the companies so that the companies can be built up and put into operation as soon as possible and could bring benefits and contribute to the local economic development at an early date.