CPC Changping District Committee secretary

Guan Chenghua visits BIIIB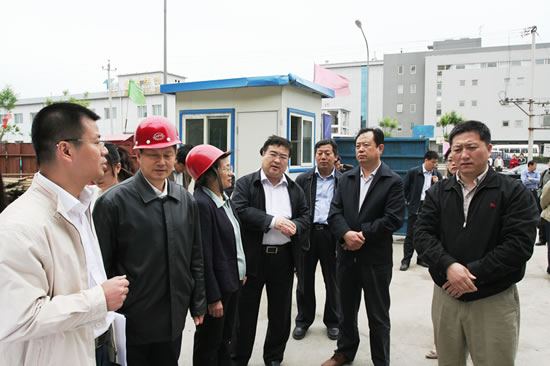 On May 1, 2009, Guan Chenghua, secretary of CPC Changping District Committee, and Jin Shudong, director of Changping District, visited the construction site of Zhaoke Hengxing in BIIIB for an observation. General Manager Liu Qun made an introduction to the base and the companies here.

At 9:00 am, the visitors arrived at the construction site of Zhaoke Hengxing that covers an area of 20,000 square meters, learning about the details about the area, functions, time to put into operation and the products, production value and tax payment of the project. Secretary Guan Chenghua also inquired about the construction and development of the projects of Fusheng Machinery and pollution control of Zhongqi. General Manager Liu Qun answered his questions and gave an introduction to the overall planning and construction of the base.

It's the third time for Guan to conduct an on-the-spot survey on BIIIB. He was highly concerned about the planning, construction and business promotion of the base, and made positive appraisals on the companies here in terms of technological content, production value and tax payment. He required that BIIIB should continue to work hard and make greater efforts to do business promotion and accelerate the construction so as to attract more companies; meanwhile, he called to improve and integrate the services provided to the companies.

People in the company of the visit also include the leaders of the Development and Reform Commissions, the Land Office and the Industrial Development Bureau of Changping District as well as the major leaders from the Huilongguan Town.