Inauguration ceremony for the architectural science and

technology demonstration building of Beijing HaiLin

Energy Technology Inc. held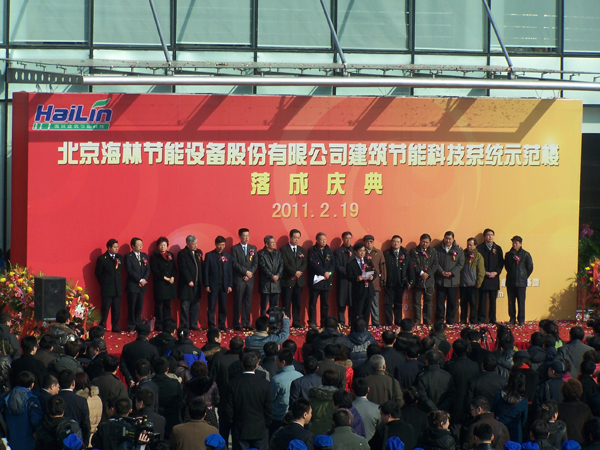 On February 9, 2011, the inauguration ceremony for the architectural science and technology demonstration building of Beijing HaiLin Energy Technology Inc. was held. Attendees to the ceremony included: Li Bingren, chief economist of the Ministry of Housing and Urban-Rural Development (MOHURD), Xu Shufan, deputy director of the Department of Science and Technology of the Ministry of Environmental Protection, Li Zuojun, the Development Research Center of the State Council, Liao Guohua, member of Party Leadership Group of Beijing Zhongguancun Administrative Committee and deputy director of Zhongguancun Administrative Committee, Jin Shudong, vice secretary of CPC Changping Committee and director of Changping District, Zhou Yunfan, deputy director of Changping District, Liu Qun, general manager of BIIIB, leaders from related commissions (offices) and bureaus of Changping District, industrial experts, heads of associations, customers, suppliers and people from more than 60 media including CCTV, CNR, CRI, CNTV, BTV, the Xinhua News Agency, China News Service, People's Daily, Guangming Daily and Sina, totaling about 800 people; in addition, the Beijing staff of Hailin also attended the ceremony. Witnessed by all these people, the office building with glass curtain walls using solar energy and a wide range of intelligent control technologies was put into use, enabling the people to have a comfortable and enjoyable experience with the stunning architectural energy saving science and technology.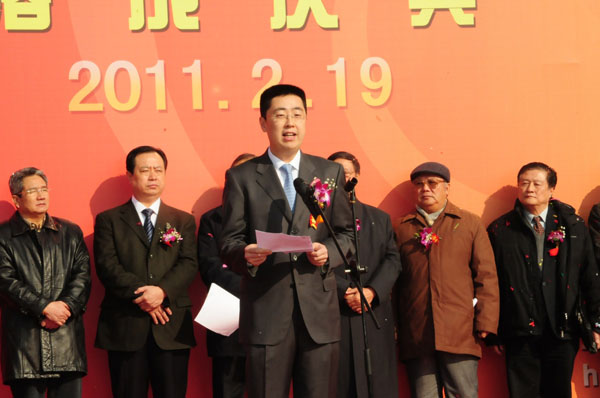 Zhou Yunfan, deputy director of Changping District, Beijing
The newly built energy-saving office building of Hailin is located in the BIIIB, covering a land area of 18,000 square meters and a building area of 25,000 square meters, with designed winter heating charge of less than 10 yuan/square meter and summer air conditioning charge of less than eight yuan/square meter. The office building reflects forward-looking, low-carbon, high-tech and culture-based characteristics of China's energy saving. Solar-energy glass curtain walls, solar roof and grand building are perfectly matched; ground-source heat pump, residual heat utilization, rainwater collecting, air quality monitoring, energy saving and energy measuring systems are integrated, making the building a world leading demonstrative project for integrated application of solar energy in building and comprehensive solutions for energy saving.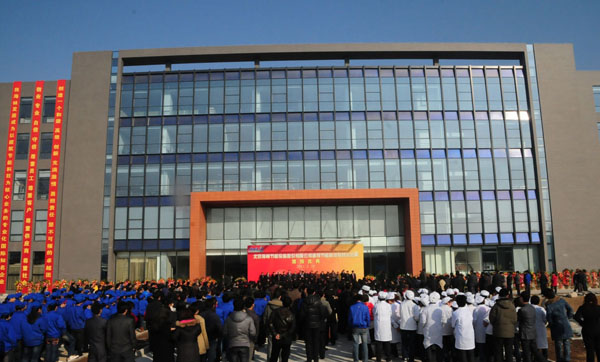 Hailin makes full use of the intelligent control technology for architectural energy saving. By integrating the use of the ground-source heat pump and the solar energy photo-thermal facilities, it made full use of the solar energy and the geothermal energy, which are both renewable and clean, to supply heating, cooling and domestic hot water for the R&D and production base. By using intelligent energy saving control technology, the sun has been made a sustainable source for supplying heating and domestic hot water for the whole building. The unification of the flat-plate solar collector and the curtain wall enables a large area of the building to be installed with solar energy facilities at a low cost at the same time of maintaining a beautiful appearance of the building. This is a breakthrough in wide range of popularization and application of solar-energy photo-thermal technology. The intelligent monitoring system of the building is able to monitor the energy consumption of each zone and even each room in the building in real time; it can monitor the energy consumption and saving situations of the whole building and measure and calculate how much energy is provided by each green energy resource. By using the wireless network, people can check and control the temperature, humidity, air quality and operation of air conditioning and heating system of each zone through computer at any place and at any time.

Hailin has had a development for more than ten years relying on its continuously innovated technology, growing from a workshop to a major company in the field of architectural energy saving science and technology. It is a national high-tech company dealing with integrated businesses, including the research and development, production and sales of the central air-conditioning energy saving control systems, the heating energy saving control systems and the efficient flat-plate solar collecting systems. It is a famous trademark of China and has been granted with more than 80 national and international patents. Its products are sold in more than 60 countries and regions in the world. Some of the company's products have been applied in 17 Olympic venues and five World Expo venues, including the National Stadium, Olympic Village, Media Village and the Water Cube.