CIIC Group and Shandong Weifang Binhai

Economic-Technological Development Area

(BEDA) signs agreement for cooperation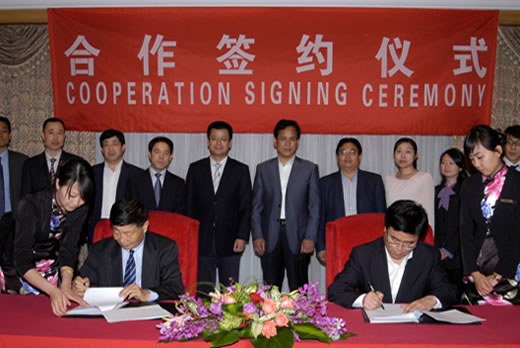 CIIC chairman Wang Tianyi (second from left, front row) and BEDA secretary Su Like
(second from right, front row) are signing agreement for cooperation.

On May 5, 2011, the ceremony for signing the cooperation agreement between CIIC and BEDA's Administrative Committee was held in the Presidential Beijing. CIIC chairman Wang Tianyi and Secretary Su Like signed the agreement.

BEDA is a national economic development zone located in the core area of the "Demonstration Area for High Ecological Efficiency in the Yellow River Delta" and the "Shandong Peninsula Blue Economic Zone", which are two national development zones established under the approval of the central government. Therefore, it holds a very important strategic position. On a land covering 80 square kilometers, CIIC is planning to build the "Beijing Gulf" with one center, three industries and nine functional zones. One center refers to a Youth Center, while three industries include the information, finance and tourism industries. It targets at building Weifang into a carrier for the transfer of high-end industries of Beijing and a "Capital's Enclave" as the first choice of one million high-end people to work at, live in, enjoy leisure, travel and keep health, namely a high-end demonstration zone of the Shandong Peninsula Blue Economic Zone.

The other people attended the ceremony also include vice secretary Wang Shenpeng, deputy director Fu Jinghua, vice president Liu Qun, vice president Ma Hailiang and assistant president Zhao Yijun.